Reach trucks are core products in the logistics industry. They are doing the heavy lifting, so to speak, and of course ensuring maximum performance from both trucks and drivers is of paramount importance.
Reach trucks from Toyota have been class-leading products with innovative features over the past 25 years. Unique tilting cab, transitional lift control, 360° steering, to name just a few and we have now just renewed our range of BT Reflex R-E-O series with even more innovative features. Whether you prioritise safety, energy efficiency, ergonomics or the impact on the environment, these reach trucks have you covered.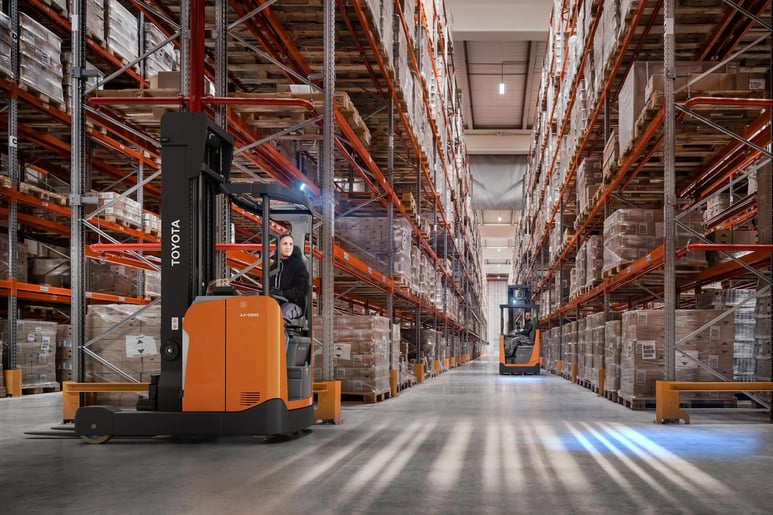 Here are the 4 reasons why you should go for a BT Reflex reach truck from Toyota.
It's intuitive
Driver's comfort and productivity is of great importance in your intensive operations. So, offering a comfortable workstation with intuitive controls is not just an option anymore in the industry. BT Reflex's driver compartment is ergonomically designed around the operator to promote comfort all shift long. Intuitive features and controls such as a new steering unit with palm support and a new main control console on the right-hand side offer optimal driver feeling. A high-quality air suspension seat as option also adds value to your drivers' experience.
It's interactive
One key part of the new design is a completely new colour touchscreen display making your driver's tasks more efficient and safe. The drivers' experience has been enhanced with this new easy-to-read display offering intuitive control as well as interactivity. It provides you with clear critical information as well as direct access to programmable functions to guarantee a high level of performance.
It's intelligent
A choice of three different intelligent energy packs is now available to best fit your application. They are based on our own modular lithium-ion battery solutions to give maximum flexibility in operations. Good charging disciplines can enable the new reach trucks with even the smallest energy pack to work around the clock.  This way you can enjoy high-quality, cost-effective and safe ways to power your material handling equipment, while keeping the environmental impact to a minimum.
It gives insight
All reach trucks from Toyota are connected smart trucks, factory-fitted with integrated telematics and are easy to connect with I_Site. The driver interface has been improved, including I_Site features such as Smart Access to allow only authorised drivers to start the machine, but also with Pre-Operational Check to make sure an automated check is done by the driver before every shift. Connected trucks with I_Site from Toyota allow you to measure and improve for higher safety and overall performance while achieving cost savings.