Although forklifts are designed to offer protection to operators, operating them takes skill and requires concentration.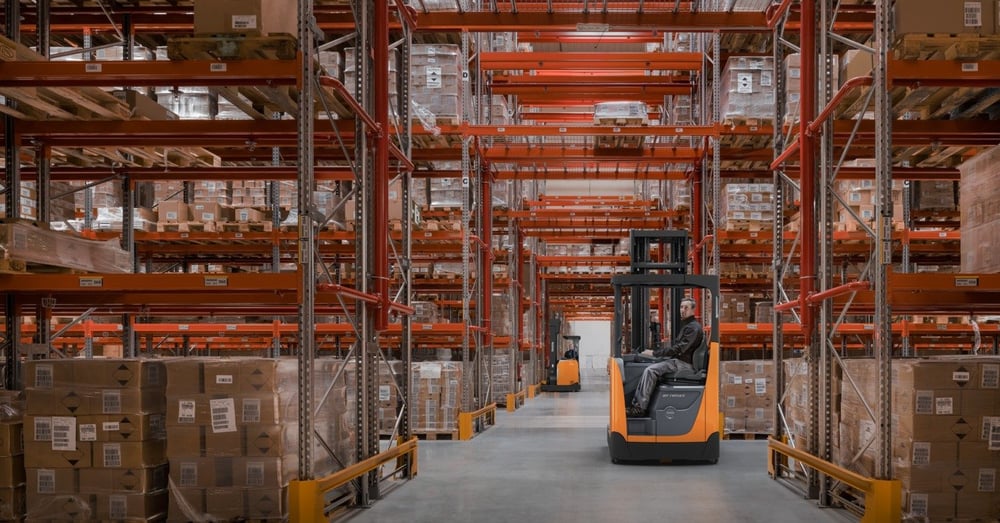 Research has found over 1300 forklift truck accidents occur each year, equating to five accidents every day.
However, the good news is there are certain actions your business can take to ensure forklift safety for your fleet. We'll discuss what these are in this article.
Provide training for your staff.



Before your drivers operate a forklift on your premises, it is your responsibility to provide them with the right level of training. Typically, forklift operator training includes three stages:
Basic training: The basic skills and knowledge required to operate a lift truck safely and efficiently.
Specific job training: Knowledge and understanding of the operating principles and controls of the lift truck and how they will be used in the workplace.
Familiarisation training: Applying what has been learnt, under normal working conditions, on the job.
Once the training is complete, ensure the trainee can demonstrate they have the necessary practical and theoretical knowledge to operate a forklift truck safely.
Here at Toyota Material Handling UK, we provide operator training so you can minimise risk and create a safety-first culture. Find out more about our forklift training services here.
Regularly service your forklifts.
Like any vehicle, forklifts can potentially become less reliable over time. Due to constant wear and tear, some components of forklifts such as forks, brakes and transmissions have to be replaced quite often.
A professional service will look at the entire forklift and all its parts to identify what needs to be replaced. Doing so will benefit your business in a number of ways:
Accident prevention.
In many cases, forklift accidents are caused when a forklift has faults with its braking, hydraulics or steering. By having a specialist look at your forklift and make the necessary repairs, you can avoid these accidents in your warehouse.

Improved productivity and better performance.
Having your forklift regularly serviced will not only mean it is reliable, but it will also perform at the maximum level.
More longevity with your forklifts.
Servicing your forklifts regularly will allow them to be used for longer periods. This will save you money in the long run, as you will have to purchase new forklifts less frequently.
This service is known as a Thorough Examination and is a legal requirement. It is a very similar concept to taking your car for an MOT.
We offer a range of service packages here at Toyota Material Handling UK — and can also provide a Thorough Examination whenever you need one. Learn more about our servicing options here.
Know the common hazards.
There are some common hazards associated with forklifts you should know about. These hazards should also be communicated to your employees.
Here is a breakdown of some of the common hazards to keep in mind:
Unsecured loads could fall, potentially crushing pedestrians or even the driver of the forklift.
Forklifts could tip over due to excessive speed or imbalance loads.
Drivers may not see pedestrians, leading to collisions and fatal accidents.
Improper or missing floor marking may lead to accidents between forklifts and pedestrians.
Drivers not wearing seatbelts when operating the forklift.
Lift truck operators becoming complacent during mounting/dismounting the forklift could potentially cause an injury.
Offering the right support and having a reliable fleet of forklifts should mitigate the risk of many of the hazards mentioned above. However, you should also consider creating a code of conduct to ensure employees exercise good judgment in decision-making.


Keep up to date with regulations.



There are several forklift regulations in the UK your business should know. These include LOLER and PUWER. Read on to find out more about each of these regulations.


Lifting Operations and Lifting Equipment Regulations (LOLER).
These regulations place duties on people and businesses who own, operate or have control over lifting equipment. As part of the regulations, it states that when an operation involves lifting equipment, you must:
Plan the operation.
Always use people who are sufficiently trained.
Supervise them when necessary.
Ensure the operation is carried out in a safe manner.
Learn about the regulations in detail here.


Provision and Use of Work Equipment Regulations (PUWER).
These regulations place duties on people and businesses who own, operate or have control over work equipment.
Work equipment is classed as any machinery, appliance, apparatus, tool or installation for use at work. There are certain steps you should take to manage the risks of this equipment, which are listed here.
Keeping up to date with regulations is important for a number of reasons. Not only does it make sure your forklift fleet is safe, but it can also improve your brand reputation and workplace happiness.
Choose the right forklift solution.
There are so many different forklifts on the market. This can make it difficult to know whether the solution you have (or are considering purchasing) will meet your business' needs.
However, it is important to remember that some forklifts offer higher levels of security and protection than others.
The right forklift solution will be built with a range of safety features. Some of these include, but are not limited to:
System of active stability (SAS).
Active mast control (AMC).
Automatic fork leveller.
Welded overhead guards.
Operator restraint systems.
The constant development of technology has also meant forklifts have become smarter over time. At Toyota, we have created a tool you can connect between your forklift fleet and personal devices.
I_Site uses online data from Toyota smart trucks to measure, analyse and maximise the performance of each connected machine. As well as helping increase productivity, control costs and increase sustainability, the tool can also benefit your business by improving health and safety.
The tool works by connecting your fleet of smart trucks with a telematics device and additional onboard sensors. By doing so, the two then communicate online to our fleet management system and both your back-office and the Toyota back-office via an ERP system.
This provides you with information on how your trucks perform. Find out more about how I_Site can help you ensure forklift safety on your fleet here.
So, there you have it — an insightful guide to how you can build and continue to operate with a safe fleet of forklift trucks as you look towards the future.
Although there is plenty to think about, one of the most important factors is making sure you purchase your forklifts from a safe supplier in the first place. That is where Toyota come into the equation.
Our range of forklifts can help you meet your goals. To find out more about our forklift solutions and why they are considered to be the safest on the market, speak to our friendly team.