Once a truck has been deemed to be in good enough condition to undergo the Toyota Approved Used refurbishment process, its first stop on the restoration journey is one of our workshops at Toyota's Old Dalby Fleet Management Centre (FMC).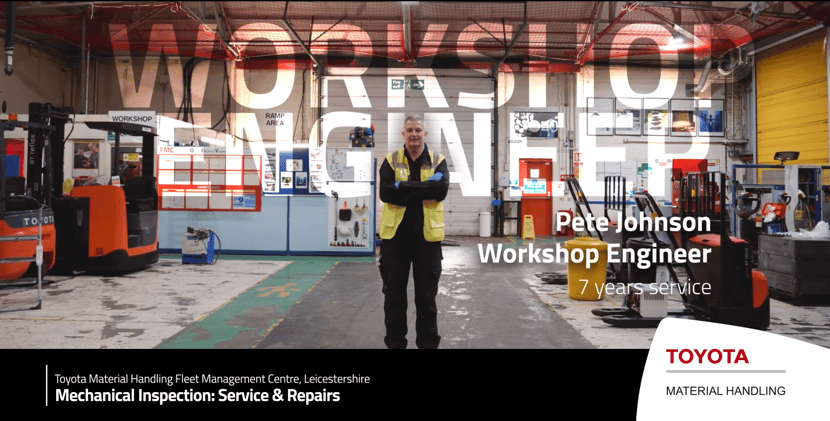 Pete Johnson is one of the team of highly skilled workshop engineers at our FMC. He and his colleagues carry out a meticulous inspection of every returning truck. The team identify and fix any faults with the truck, and replace worn or damaged components, such as the lift chain, axle bushes and mast bushes, looking at the engine and batteries, and the tyres, which are the most frequently renewed parts, and more. Then the machine is ready for the paint booth.
Of course, the condition of each used truck arriving at the FMC varies greatly, as Pete explains: "Some trucks have to be completely stripped down and each major component replaced, whereas others just require a 'tidy up' and a service, so the time it takes to complete the process from start to finish can be anything between 12 and 30 hours."
Pete joined Toyota Material Handling UK seven years ago, having spent the first 20 years of his career as an HGV mechanic before setting up his own business buying and selling cars. Other private ventures followed – including a courier firm and a shop fitting company.
"My shop-fitting firm won a contract with a major mobile phone provider, which was fantastic. But I ended up driving 80,000 miles a year and working around-the-clock. I wanted to spend more time with my young family, so the opportunity to join the Toyota team was absolutely ideal for me," says Pete.
Being the father of twin boys – aged 14 – who are both talented football players, means that Pete's weekends are now spent clocking up the miles travelling across the Midlands to watch his lads compete for various teams: on Saturday afternoons they play for the same side, but on Sunday the boys turn out for rival outfits!
"Family time is important to me, but my work is also extremely fulfilling. No two days are the same. I work on all forklift model types and gas, electric and diesel power sources. Seeing a Used truck arrive in the workshop and leaving the building as good as new and ready to go back into service is very rewarding."