Forklifts can offer many benefits to your operation, including increased efficiency and productivity. But with different types of forklifts available, how do you know which one is right for you and the needs of your business?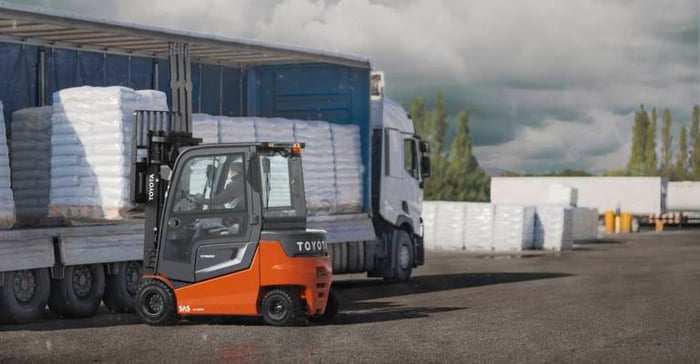 There are three common types of forklifts; electric, LPG and diesel. This article will discuss all three power sources, explaining their pros and cons to help you establish which type is the best option for you.
Electric forklifts.
Electric forklifts run entirely on rechargeable batteries instead of fuel tanks, offering many environmental benefits. As well as releasing low carbon emissions, electric forklifts use less energy and are also much quieter than other types of trucks.
There are various energy choices available for powering electric forklifts. These include lead acid, Li-ion and hydrogen fuel cells. These solutions provide a higher energy efficiency than other types of forklifts and can be recharged quickly and easily, reducing any unnecessary downtime.
A quiet forklift provides many benefits, including improved operator safety. Loud noises can be distracting, causing headaches, stress and fatigue.
Electric forklifts are the most compact type of forklift. They are much easier to turn and manoeuvre, particularly through small, enclosed spaces. This has been made possible through the introduction of more electric counterbalanced trucks.
The base model of these trucks offers great stability and residual capacity, providing operators with a spacious and ergonomic work environment. Their shorter dimensions allow them to navigate in tight spaces. However, they are capable of handling large loads and can also operate in outdoor settings.
Something else to keep in mind is that electric forklifts decline in speed and power as their battery drains. Whereas diesel and LPG forklifts can keep up the same level of efficiency until they run out of fuel. Lead acid battery solutions also require you to have the room for charging stations.
In the past, electric trucks were mostly seen as indoor trucks, however, with developments in technology, electric forklifts are now a lot more robust and can be used in a lot of outdoor settings.
To learn more about electric forklifts and their fuel sources, click below and check out our comparison guide.
LPG forklifts.
LPG forklifts run off gas. Although they are not as environmentally friendly as electric forklifts, they release fewer emissions than diesel-fuelled solutions.
They also offer the highest level of efficiency, as LPG forklifts can run for the longest period on a given amount of fuel. The initial cost of a LPG forklift is usually much lower than electric and diesel-powered forklift trucks. However, they tend to have the lowest residual value at the end of their lifetime.
In terms of maintenance costs, LPG forklifts tend to be more expensive than other solutions. They are also less easy to navigate around warehouses than electric forklift trucks. This means they might not be the best solution when operating in a smaller warehouse. However, one of their key benefits is that they are suitable for both indoor and outdoor environments.
Diesel forklifts.
Powered by diesel, these types of forklifts are the least environmentally friendly. This is because they release significant amounts of carbon into the atmosphere. If your warehouse has plans to build a green warehouse, diesel forklifts might not be the right solution for you.
As diesel fuel combustion occurs at a high volume, this forklift is also the noisiest of the three solutions. When it comes to price, the initial price of purchasing a diesel forklift is much lower than an electric one. However, the rise in fossil fuel prices also means that diesel forklifts are predicted to become increasingly more expensive to run in the future.
These solutions have the highest residual value of the three. Diesel forklifts are generally worth more than LPG or electric models at the end of their life. They are also easy to maintain due to their high levels of longevity and durability. Although when maintenance is needed for these trucks, it usually costs more than electric and LPG solutions.
Diesel forklifts are mainly suitable for outdoor, rougher environments and also tend to be available to purchase in larger capacities They are the largest solution of the three and if you are operating in a smaller area, we recommend looking at a different solution. If your business is looking to become more sustainable, an electric forklift may be the best solution. However, there are also many other elements that can improve sustainability.