Long-term Rental (LTR)
Long-term rental is most companies' preferred alternative to outright purchasing a truck. Companies can avoid the high initial cost and invest that capital in a different area of the business, while also avoiding losing value on an asset that depreciates over time.
When you choose long-term rental through Toyota, we handle all your service needs while maintaining the highest levels of operational performance and uptime. Our comprehensive labour and parts plan includes preventive maintenance, breakdown cover, and Toyota genuine parts used in servicing and breakdown repairs.
You can set the pricing based on the terms of your lease or rental agreement, allowing you to plan and budget for a long-term fixed monthly cost. And because we have you covered, you can focus on running your business without the stress of being hit with any sudden costs.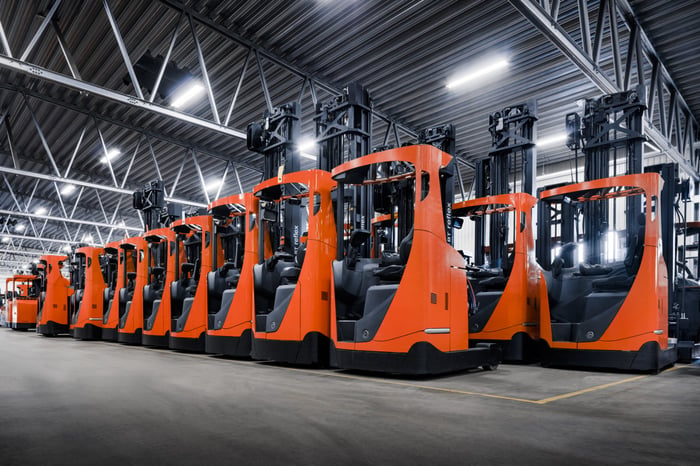 Short-term Rental (STR)
As opposed to long-term renting, short-term rental allows you to hire a forklift truck or tow tractor that meets your needs on a short-term basis – that can be anything from one day, a week, or several months. Unlike long-term renting, STR is a more flexible approach and works to suit your more immediate requirements.
And as we all learn to adapt in an ever-changing workplace, the material handling solutions that suit you today, may not be enough tomorrow. STR is the ideal cover during unexpected spikes in production, such as:
Providing additional support during peak seasons
When looking to reduce costs during off-season
To trial a truck and make sure it is the best fit for your business
When a truck breaks down and you need a replacement quickly
When you only require temporary use of a truck
In case of uncertainty about the long-term need for a truck
When customer demand suddenly increases
To prepare for an upcoming event
When moving or re-organising your operations
All trucks on short-term hire are maintained by dedicated Toyota engineers at our Fleet Management Centre in Leicestershire, where we ensure that each machine is inspected and serviced to the highest quality possible.
Whether you need a truck today or in future, we have over 4,000 trucks available for hire at short notice. We are flexible, and you can rely on us.