Are you considering the different energy source options to power your materials handling fleet? If so, you will want to know more about lithium-ion and lead-acid batteries.


This article will look at both solutions, weighing up the pros and cons to give you a better understanding of which may suit you best.


Lithium-ion batteries.
Lithium-ion batteries are one of the most reliable solutions on the market. This is because they offer opportunity charging and can be fully charged in 80 minutes (30 minutes for 50% battery).
The battery stays in the forklift and does not need to be removed for recharging. Lithium-ion batteries may be the solution if you run around-the-clock operations or multiple shifts back-to-back.
Although the initial purchase price of a li-on battery is higher than other solutions, they require less maintenance. Lithium-ion battery energy costs are also much more affordable than other energy sources.
Lead-acid batteries.



Lead-acid batteries have been around for much longer than lithium-ion batteries. They are the most traditional type used in the material handling industry to power forklift trucks.
These batteries are considerably cheaper than other options. They are also 99% recyclable and can be used for up to five years with good care.
Similar to lithium-ion batteries, lead-acid batteries are rechargeable. However, they require eight hours to charge and eight hours to cool down, meaning you may have to factor in unplanned downtime.
Now you know a little more about each type of battery, it is time to compare them.
Discover the right energy source for your forklift trucks.
Find out about the different energy source options, pros and cons and how they support your business. To get started, download a copy of our insightful comparison guide.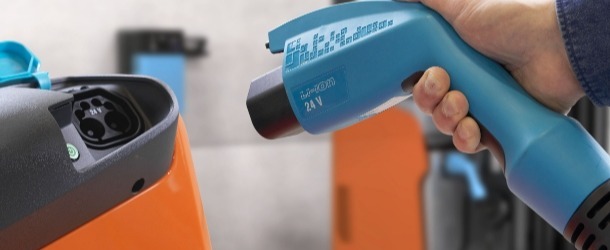 Comparing the two solutions.



This section will compare all the important factors to consider before purchasing, from initial costs to refuel times and maintenance requirements.


Initial purchase costs.
The initial purchase price of lithium-ion batteries is currently around twice as high as lead-acid. This is because lead-acid batteries are the cheapest solution on the market.


Operating costs.
While operating costs are relatively low for lead-acid batteries, they are even cheaper for lithium-ion batteries due to their high levels of efficiency.


Performance.
Lithium-ion batteries run for less time than lead-acid batteries. However, they offer opportunity charging, which reduces downtime. Lead-acid batteries can be used for up to eight hours, but refuelling time is much longer.


Refuel times.
Lead-acid batteries can be recharged in 8-12 hours. However, the refuelling time for a lithium-ion battery is typically 1-2 hours.


Energy efficiency.
If sustainability is a key focus for your business, you will want to consider energy efficiency. Lead-acid batteries offer medium levels of energy efficiency, whereas lithium-ion batteries are more efficient.


Maintenance requirements.
You will need to factor in ongoing maintenance costs to keep your lead-acid batteries in prime condition. This maintenance can result in unplanned downtime, and you will also need to purchase specialised cleaning and watering products.


Environmental impact.
Lead-acid batteries are 99% recyclable and have a minimal environmental impact. While lithium is not as recyclable as lead, operational energy usage is lower and they have a much longer lifecycle.


Storage requirements.
Lithium-ion batteries do not have any particular storage requirements and can charge a forklift truck in any location. However, lead-acid batteries often need dedicated charging areas, potentially with ventilation.


Other solutions available.
The popularity of fuel cell trucks is growing as companies embrace cleaner and more renewable energy solutions. You can find out more about hydrogen fuel cell technology here.
Finding an energy source for your materials handling fleet is no easy task. There are many different factors to consider and you want to be sure you choose a solution that suits your application.
To help you get closer to finding the right solution, download a copy of our comparison guide.