During the winter months, there are several things you need to consider when you operate a forklift truck and your forklift tyres should definitely be one of them. Ensuring you have the correct forklift tyres for the cold and wet conditions is a necessity to protect the truck and your operators and to ensure productivity stays high.
Which forklift tyres are best for winter?
Solid pneumatic tyres are better for the winter conditions as they are more rigid and will not succumb to any punctures from loose debris.
Air filled pneumatic tyres offer large treads to handle loose snow, making them also suitable for wintery conditions.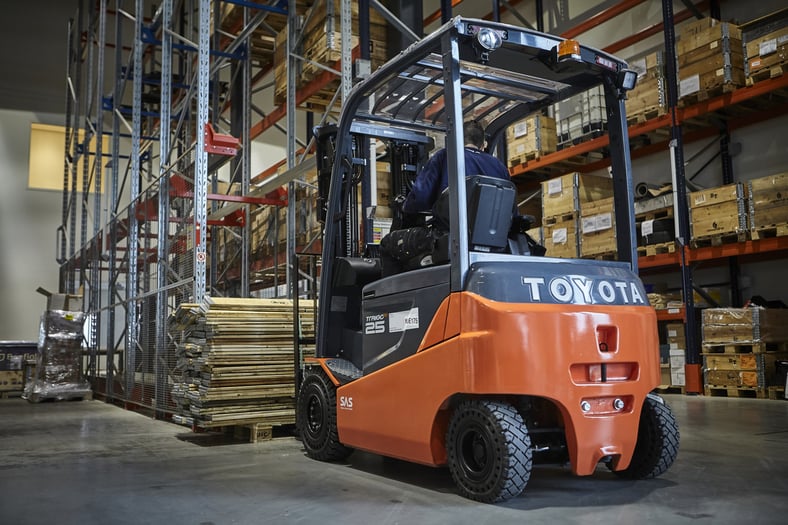 Pre-cautionary tools for your forklift tyres
There are two types of precautionary tools you can use to assure extra safety for your tyres and operators during the winter months.
Tyre Chains
Tyre chains encompass the whole tyre, regardless of the type of tyre. Chains allow for the forklift to gain traction on slippery surfaces. The only disadvantage of using chains is that when driven on dry or flat surfaces they can be damaging to both the chains and the surface on which it is operating.
Tyre Studs
Tyre studs are spikes that can drilled into a solid pneumatic tyre without damaging it. The studs allow for better grip when driving in cold and icy conditions.
Preparing your working area
Always be sure to de-ice your working area before you begin operating the truck, this will ensure safety for drivers who are constantly driving out in wintery conditions. Without de-icing you are more likely to run into a hazardous situation, even with the proper equipment to handle the poor weather conditions.
Find out how we can help
For more information on looking after your forklift tyres or forklift truck servicing, contact us below and a member of our Toyota Tyre Care team will be in touch.