Hydrogen has become an increasingly popular energy source for powering forklift trucks. Hydrogen-powered forklifts combine the sustainability of an electric truck with the practicality of an internal combustion engine.
This article will explain everything you need to know about hydrogen-powered forklift trucks, including their advantages and disadvantages.


What is a hydrogen-powered forklift truck and how do they work?
These trucks are powered by hydrogen fuel cells, which produce electricity by combining hydrogen and oxygen atoms.
The fuel cell system on a forklift truck consists of the fuel cell stack, a 350-bar hydrogen tank and a small lithium-ion battery to store surplus energy.
All these features are in a cast frame the size of a classic lead-acid battery and can easily be installed into a conventional electric forklift truck.
What are the advantages of hydrogen-powered forklift trucks?



Like most trucks, hydrogen-powered forklifts can offer many advantages to a business. Although switching to fuel cell trucks requires a high upfront investment, they can support you in many ways. Some of the benefits of hydrogen-powered trucks include:


Sustainability.
Hydrogen trucks can play a crucial role in helping your business achieve its sustainability goals. They operate with zero emissions, as distilled water is the only waste product.

Reliability.
Like other forklift energy solutions, hydrogen fuel cell units require routine servicing and care. However, their service life is much longer and they cost less to maintain.
There is also no performance loss during use and opportunistic fuelling is possible without harming battery life.

Productivity.
Refuelling hydrogen trucks can be done both indoors and outdoors. They are also built to operate effectively in a range of environments.
Hydrogen tanks can be retrofitted to existing trucks and do not take up excessive space. This makes the transition much more seamless than investing in a brand-new fleet of trucks.
Start comparing the energy sources options available for your forklift trucks.
Discover the benefits of lead acid, lithium-ion and hydrogen fuel cells. From there, decide which energy source could be right for you trucks. Get started by downloading the guide.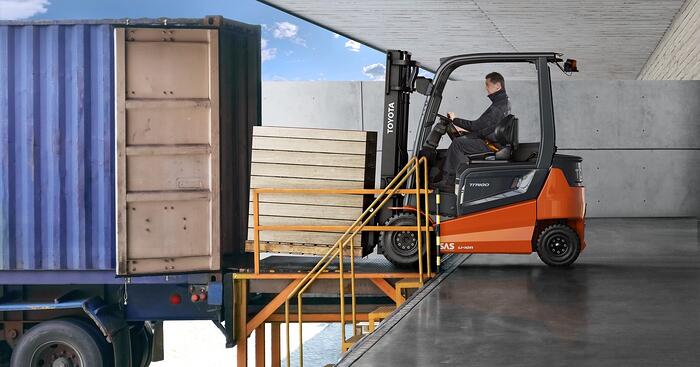 What are the disadvantages of hydrogen-powered forklift trucks?
There are several disadvantages of hydrogen fuel cell forklifts you should consider before you make a decision. These include:


High costs.
Hydrogen fuel cell forklifts are generally more expensive than their battery-powered counterparts. However, that investment pays itself back immediately through regular savings in operational and maintenance costs.


Refuelling infrastructure.
Hydrogen fuel cell vehicles require a special infrastructure for refuelling, which can be expensive to install and maintain. Before investing, ensure you have enough space in your warehouse to house this infrastructure.
We understand there is a lot to consider when choosing the right energy source for your forklift truck fleet. On top of the costs, you also want to make sure you choose a solution best suited to your warehouse's needs.
To help you get started, we have created an in-depth comparison guide.
Start comparing your options and choose a solution that is right for you.

We want to make choosing the right energy source for your fleet as seamless as possible. That is why we have created this comparison guide.
The guide includes a matrix comparing various factors, such as initial costs, performance, refuel times and environmental impact. Download your copy below.