There are several options when choosing a power source for your electric forklift fleet. However, lithium-ion batteries have become an increasingly popular solution in recent years.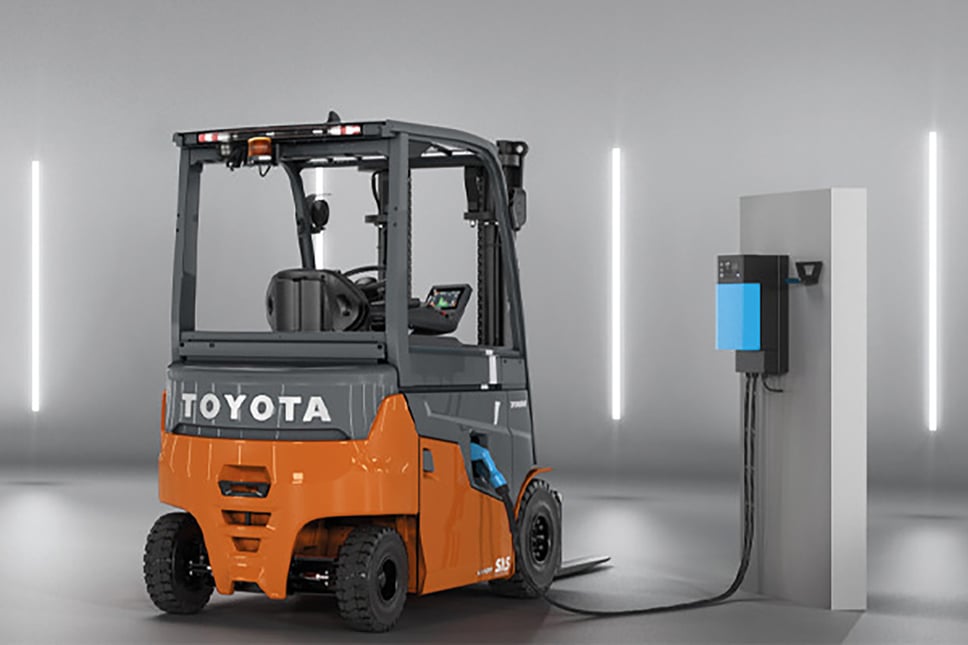 In this article, we take a deeper look at what lithium-ion batteries for forklifts are and the benefits they can offer your business. We also explore some of Toyota's most popular lithium-ion powered trucks.


What are lithium-ion powered forklifts?
A lithium-ion battery is a type of rechargeable battery that uses the reversible reduction of lithium-ions to store energy. These batteries are designed to last 1,500 charging hours in a forklift — if maintained well.
Lithium-ion batteries are rechargeable, making them better suited to multi-shift, 24/7 operations. This is because you can use them around the clock. As soon as the battery starts running low, you can recharge it on the job.
Watch the video below to learn more about lithium-ion battery solutions and how they work.
What are the advantages of lithium-ion batteries for forklift trucks?
Lithium-ion battery technology has significant advantages for businesses compared to traditional forklift batteries like lead-acid. Opportunity charging is a unique selling point, but there are other reasons you may look to invest in this solution.


Energy efficiency.
Lithium batteries have 2-3 times the cycle life of lead-acid and are more energy efficient. Greater energy efficiency can result in lower costs and emissions for your business. This is key if your are looking to achieve your sustainability goals.


Productivity.
Lithium-ion batteries do not need to be swapped out and can be opportunity charged during operator breaks. This means operators can enjoy longer run times and do not need to worry about the forklift truck declining in performance.
You can fully charge a lithium-ion battery in only 80 minutes and they only need 30 minutes of charging time for 50% battery capacity. In comparison, lead-acid batteries can be recharged in around 8-12 hours.
Safety.

Safety should always be a top priority when choosing an energy source for your forklift trucks. Here at Toyota Material Handling UK, we have gone the extra mile to ensure our lithium-ion batteries deliver a range of safety benefits to your business.
Our lithium-ion batteries use cylinder-shaped cells that do not touch each other. If there is a safety hazard with one cell, it will not directly impact the other cells around it.
Adaptability.
Lithium-ion batteries are suited to hot and cold environments, making them more adaptable than other energy source solutions.
In cold storage, lead-acid batteries do not perform as well. Condensation and cold temperatures impede the chemical reaction that releases the electricity used to power the forklift. It might be worth switching to lithium-ion batteries if you use cold storage as part of your operation.
Toyota's lithium-ion powered solutions.
If you are considering switching to lithium-ion batteries for your truck fleet, we have a range of solutions to choose from.
Toyota Traigo80 Electric Forklift with lithium ion
Discover our new generation of Traigo80 2-3.5 tonnes electric counterbalanced fork lifts. Available with lithium-ion power, great ergonomics in a robust design for both indoor and outdoor operations. Find out more about this truck here.
Toyota Traigo24 Electric Forklift with lithium ion
Toyota Traigo24 trucks are extremely compact, and designed for easy operation in the tightest spaces, especially the 1.0-tonne model.

Find out more about this truck here.
Toyota BT Levio LWI160 powered pallet truck.

This truck is compact, light and agile — a perfect solution if your warehouse has tight and confined spaces. This truck is built around lithium-ion using a modular approach, the Toyota BT Levio LWI160 is highly energy efficient and will make a big difference if you want to reduce downtime.

BT Tyro lithium-ion powered pallet truck.

Powered by a lithium-ion battery, this pallet truck offers excellent manoeuvrability and is perfect for use in confined areas. It is also able to transport and lift loads of up to 1550kgy. Find out more about this truck, its benefits and buy online here.


Toyota BT Reflex high-performance reach truck.

This solution has three different intelligent lithium-ion energy packs to fit your application. Each of these packs is designed to provide you with cost savings and reduce CO2 emissions. Find out more about this truck here.
Although lithium-ion batteries are becoming more popular for electric forklift trucks, you should still consider all your options before you make your decision.
To get a clear understanding of the most effective energy sources, download our comparison guide.
Take the first steps to find the right energy source for your forklift trucks.
Inside, we compare your three options: Lead-acid, lithium-ion and hydrogen. The guide explains everything you need to know, from initial costs to performance and energy efficiency.