Workplace safety is one of our most valued priorities, for our own employees and for our customers. According to a Eurostat study, in 2020 the highest number of non-fatal and fatal accidents at work were caused by losing control of machines, tools, means of transport or handling equipment.

At Toyota Material Handling we continuously analyse the primary causes of safety related problems such as forklift accidents so that we can take countermeasures to increase safety and productivity in logistics operations.
What is considered the most important added value for a safer workplace? Below are some solutions that can help you to reduce truck incidents in your workplace.

Why do forklift accidents occur?
Forklift accidents usually occur due to a combination of factors and often the risk gets higher when reversing. One significant reason is operator error, sometimes caused by insufficient training but also by a busy working environment with tiredness kicking in.
Inadequate maintenance of forklifts can also lead to accidents. Same for overloading or improper loading of materials. Last, but not least, lack of communication between forklift operators, pedestrians and other workers can lead to collisions and accidents.
How to efficiently reduce forklift accidents in a warehouse?

Several key measurements can be implemented to reduce forklift accidents in a warehouse:


Comprehensive training programs should be provided to all forklift operators, covering safe operating procedures, proper manoeuvring techniques and load capacity limits. Regular courses and evaluation can help reinforce operator's knowledge and skills.
Perform regular risk analysis to prevent potential hazards and plan improvements.
Equip your forklift with safety assistance systems, reducing the risk of human error, especially during long and frenetic days of work in a busy warehouse.
Clear and well-maintained pathways with designated zones for pedestrians and forklifts should be established, minimising the risk of collision.
Ensure the safe segregation of delivery drivers from the loading and unloading activities by having them wait in a safe area during the (un)loading of lorries.
Regular forklifts and equipment maintenance are crucial to identify and address potential hazards promptly.
Using a fleet management tool can dramatically increase safety in your warehouse, tackling problems at the very first sign.
Promoting and developing a culture of safety, encouraging reporting and addressing concerns promptly.

Putting a few safety solutions under the microscope:
Assist systems fitted to your material handling equipment
Technology plays a crucial part when it comes to improving safety in operations and reducing the risk of accidents, creating a safer working environment for operators and employees. However, simple solutions such as (extra) safety lights to warn people in the warehouse of the truck's movements can already have a big positive impact.

As mentioned, reversing with forklifts creates dangerous situations, so an assist system like SEnS+ can really help operators to reduce collision risks through notifications and truck control.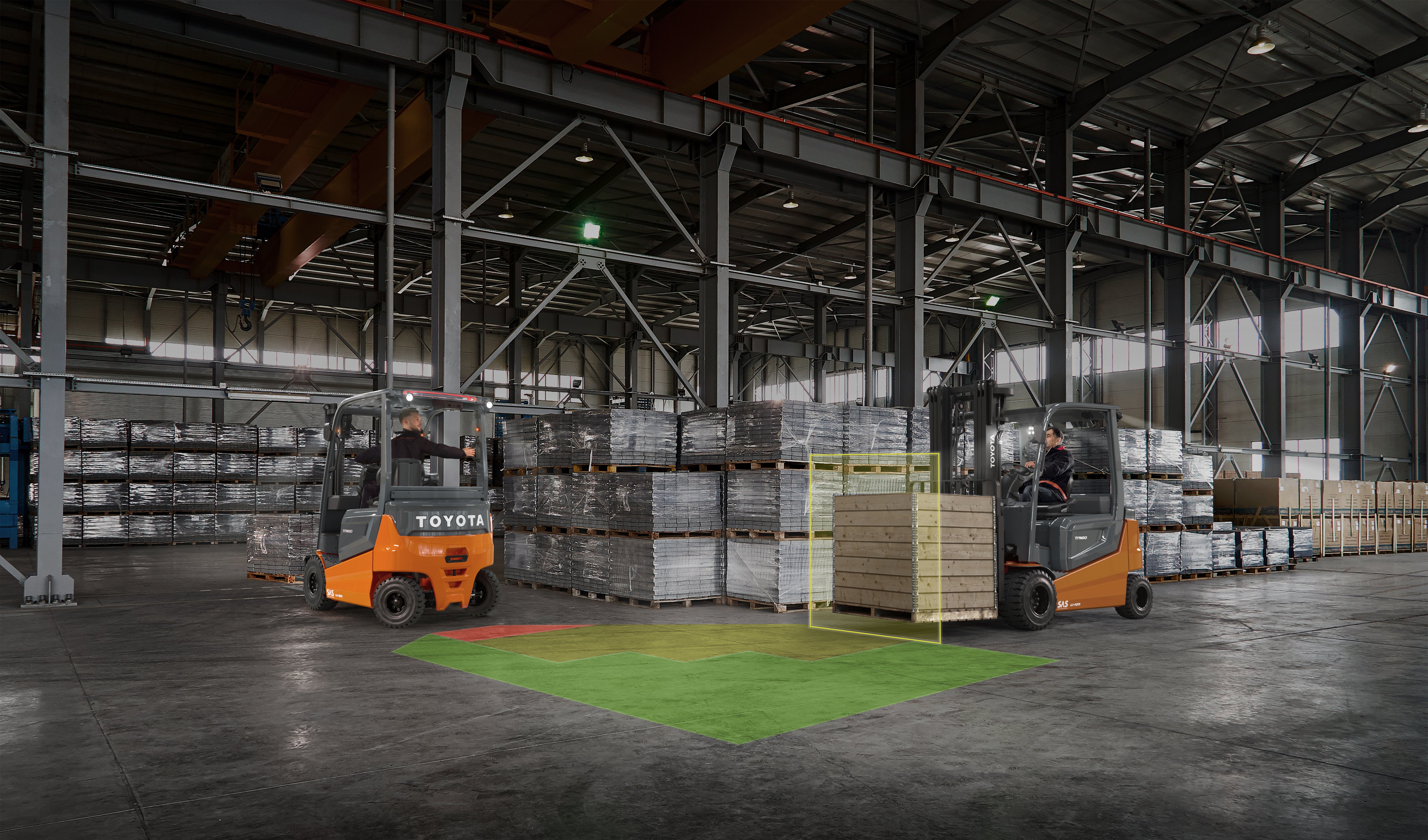 Fleet management data to make fact-based improvements
To achieve maximum safety for your material handling fleet, it's essential to implement driver control measures, allowing only certified and trained operators to handle the trucks. Conducting pre-operation checks to ensure the vehicles are safe for operation is also crucial. Monitoring driving behaviour helps identify shock-prone areas and enables the development of a safer working culture. By understanding which driver groups operate the trucks by best practice, you can further enhance overall fleet safety.
Operator training to create a safety culture
Considering that working with material handling leads to a high-risk environment, operator training is vital to optimise the safety and efficiency of your operation. Knowing the importance of material handling training, we at Toyota Material Handling, having more than 25 years of experience and with 97 training facilities across Europe, are strongly committed to promoting and spreading the importance of creating and nurturing a safety culture in workplaces.

Besides reducing damage to goods or equipment and limiting incidents with pedestrians or workers, operator training improves motivation, reduces energy consumption thanks to improved driving skills, grants an important return of investment and increases overall productivity.

Because everyone is equally accountable for improving safety, we also provide safety training to managers and supervisors, supporting with on-site Customer Risk Analysis to detect areas of improvement and provide efficient solutions.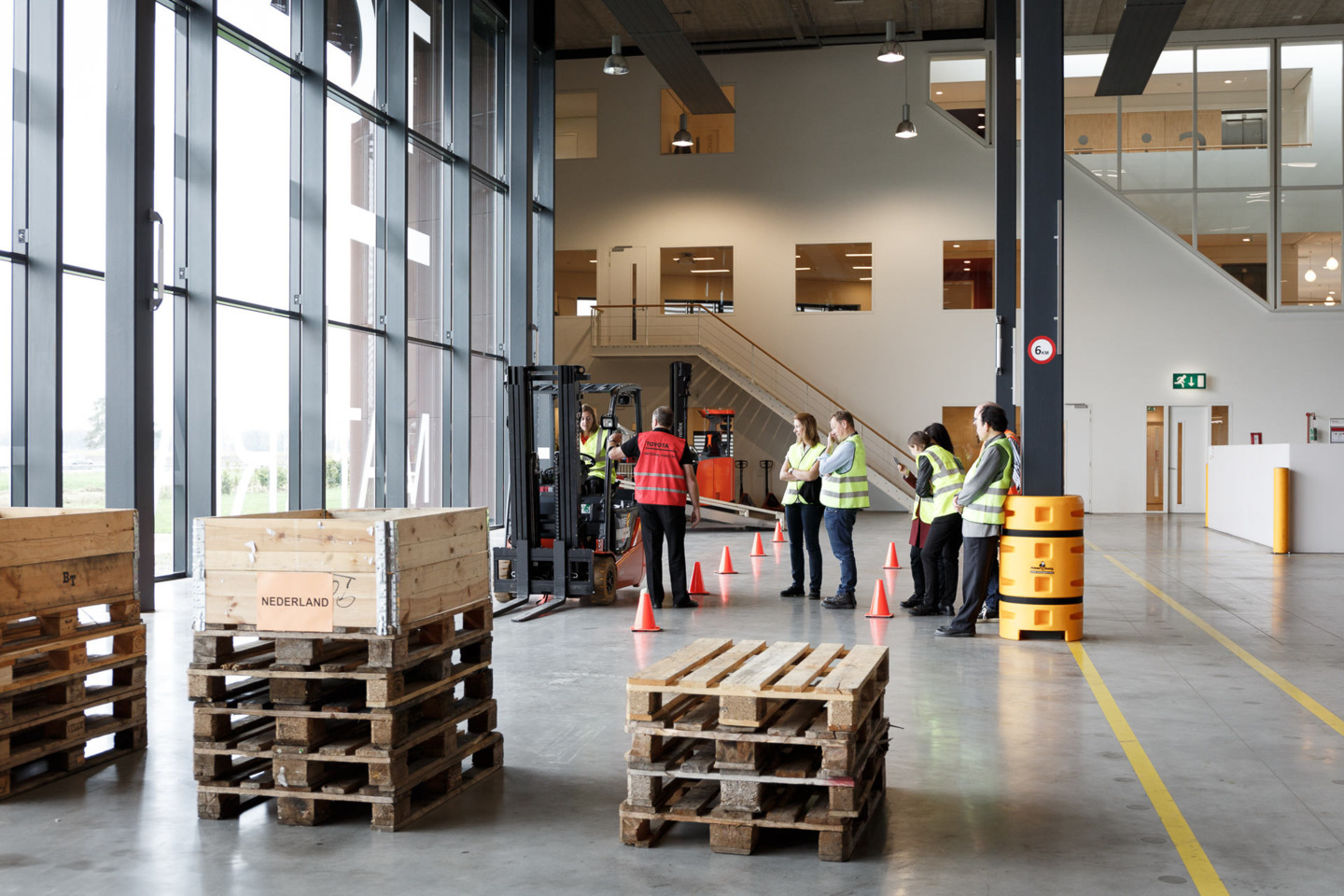 When it comes to safety, any improvement, however little, can make a difference. Prioritising safety at work is crucial for fostering a secure working environment for your employees. At the same time, it also improves overall productivity and reduces costs related to sick leave or damage to goods and equipment. Start small, think big.