Research has found that over 440,000 people sustained an injury at work in 2021 — with many of these happening in warehouses.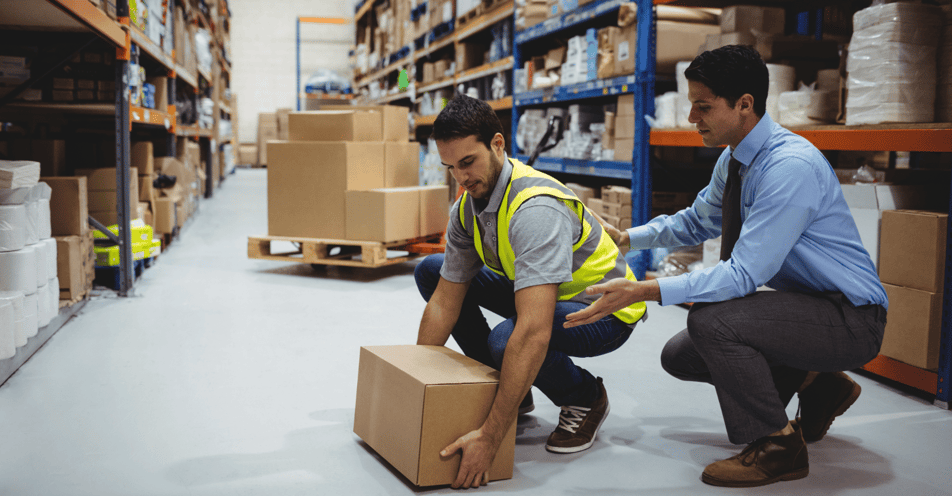 There are certain guidelines to follow to avoid these types of injuries happening in your warehouse. This article will discuss these guidelines and why they are so important for warehouse health and safety.
Warehouse layout.
As well as providing easy access to stored goods and minimising travel times, a well-executed layout can improve health and safety.
With the right layout changes, you can make your warehouse much easier to navigate — reducing the risk of employees needing to backtrack or take inefficient routes to get to their destination.
It is also important to keep walkways clear of debris or packaging, preventing any potential slips or falls.
There are some crucial factors to consider when designing and optimising your warehouse layout. These include:
Space available.
Some warehouses will provide more space than others. However, allocating maximum space to fulfil storage and inventory processing requirements is crucial.

Accessibility.
When planning an optimised warehouse layout, ensure all areas and products are easily accessible to staff. This will minimise the risk of employees having to choose an unfamiliar route where there may be potential hazards.


Flow.
Interrupted goods and equipment flow is vital for reducing injuries and disruption. You can avoid inefficient routes and issues by strategically planning your warehouse layout design to facilitate each operation sequentially.

Budget allocation.
Optimising a warehouse layout can be a costly exercise. Therefore, you should consider the most suitable and cost-efficient solution for your warehouse. If you are unsure of how to develop this solution internally, working with an expert like Toyota Material Handling UK could be the answer.


Equipment.

When raising the health and safety bar, the right warehouse equipment can complement human effort.
Specific warehouse equipment can also help you save time, cut costs and improve processes in different areas of your business.
Some of the most effective warehouse equipment your business needs to maximise efficiency includes forklift trucks, a fleet management system and order pickers. Here are some of the reasons why:


Forklift trucks.
Forklift trucks are designed to support workers in taking on materials handling tasks.
At Toyota, all of our forklift trucks are fitted with the latest safety features that aim to provide maximum protection to operators. These include:


System of active stability (SAS).
Unique to our trucks, our SAS solution takes over 3,000 readings per second to detect unsafe operating conditions and ensure forklifts remain stable during operation.
Active mast control.
AMC is a feature built into our forklifts that aims to automatically detect load weight and mast height and is essential when inserting or removing pallets. This feature enables the forklift to recognise any dangerous tilt speeds and slow down the mast to prevent tip-overs from occurring.
Manually operated horns.
Our trucks are fitted with manual horns that operators can use to alert others. They aim to raise attention and ensure accidents and collisions do not occur.


A fleet management system.
A fleet management system is powered by telematics and works as an online inventory for your entire forklift fleet.
At Toyota, we have our own fleet management system called I_Site.


Order pickers.
Manual order picking is very physically demanding and can cause a lot of strain for employees, especially when handling heavy loads.
Order pickers (such as a llolop truck) remove the need for humans to take on these tasks. Not only does this reduce injuries, but it also increases efficiency and allows your staff to work on more business-critical matters.
However, before your employees operate machinery such as forklifts and order pickers, they need to receive the right level of training.
Employee training.



It is essential to provide health and safety training to your employees, so they know how to employ health and safety best practices in the workplace to minimise risk and prevent incidents and ensure the correct procedures are followed should an incident occur.
There are different types of training that you should provide to both experienced and new employees. These include:


Operator forklift training.
Since working with material handling equipment creates a high-risk environment, it is crucial to raise awareness among drivers.
This can be done by providing operator forklift training to your employees. Doing so will also ensure your employees know how to operate a forklift efficiently and safely.
Some of the other benefits operator forklift training can offer include:


Reduced costs across your business.
Better productivity in your workplace.
Improved environmental practices.
Learn more about the importance of operator forklift training and tips to consider when supporting your staff here.
General safety training.
You should provide extensive safety training across different job functions at your business. The training should focus on several aspects, including:


Pedestrian safety.

Correct lifting techniques.

Safe loading and unloading of vehicles.

Traffic patterns of the warehouse and loading dock.

Safe stacking of shelves.




First aid.
If an accident does take place in your warehouse, you must have employees who are trained in first aid. This can be the difference between life and death.
This training should cover aspects such as CPR and knowing how to treat injuries such as sprains and burns. Find out more about first aid training and the procedures to follow in an emergency here.
So, there you have it — a roundup of some of the most important aspects to consider when building a safe warehouse. But our guidance does not end here. Here at Toyota, we also offer offer forklift training to ensure your employees know how to operate a forklift efficiently and safely. You can find out more about our training services.