If you want to get more insight into your daily operations and the performance levels of your material fleet, I_Site from Toyota is the perfect tool for you. However, I_Site is so much more than that; it connects warehouse managers to the drivers in their team and to their trucks. Making it easy to analyse incidents like shocks, regulate truck access levels or send messages to the trucks and back. Today, we're going to do a short deep dive into why I_Site can be a true asset in supporting the collaboration of warehouse managers and truck drivers.
Remote on the regular
When the COVID-19 pandemic hit our planet, many companies decided to let their employees work from home. As a logistics company, we do understand that warehouse managers have to keep an eye on everything that's happening, making home working difficult. Managing your drivers from a distance can be a challenge, but thanks to I_Site you always have the latest warehouse updates at your fingertips, wherever you are. Just log into the tool via your computer or the mobile app and check the status of your connected fleet. The tool will tell you when something is wrong with one or more of your trucks; for example, it will send you a message if it picks up a shock. You can even set up push notifications, so you don't miss a single error.
Authorised personnel only
Do you have a mixed fleet where some drivers are only allowed to operate certain trucks after having received a specific training? I_Site ensures that only approved drivers can access specific machines. You can simply assign machine access online by using smart access cards or PIN codes. You can even create driver profiles that can limit particular drivers, for example beginners, in terms of truck speed and response. This means their trucks will not exceed the assigned speed limit and will accelerate more gradually.
The PIN codes can change daily, weekly or monthly, based on your preferences. You can set up the codes based on driver profiles, type of machine, etc. Another way to make sure only authorised personnel can drive certain trucks, is to use a smart access card. Like with the PIN codes, you will know which driver is accountable for what truck and is therefore responsible for what happens to that truck. The access levels can be programmed onto existing cards and badges or facility doors.
If a specific driver causes a shock or if he has a failed pre-operational check, our I_Site fleet management system will alarm you via app or email. The message will state which driver and truck are responsible for the damage or error. The truck will be automatically locked, leaving it nonoperational until fixed. This gives you the opportunity to immediately contact a service technician and to decide whether or not you want to have a dialogue with that particular operator regarding the shock or the negative check results. Unauthorised drivers are simply prohibited of entering the truck and thus cannot operate it. You can directly recommend certain safety workshops or driver training sessions to those who really need it.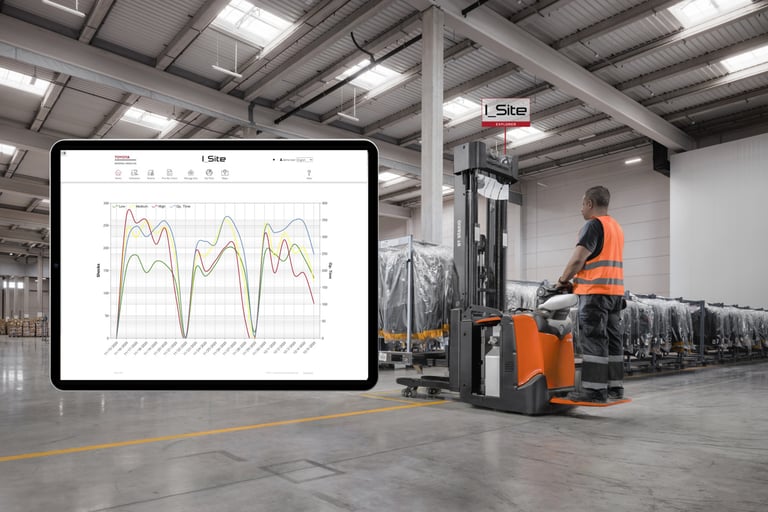 A legitimate licence
Wouldn't it be great if you could have an overview of your operators' driver's licences so you can easily monitor expiration dates? I_Site does all of this, and you can even set-up an automated email notification that will be sent to you once licence renewals are due. On top of that, you can create a dashboard where you instantly have an overview of you operators' licences and their expiration dates.
Drive safe
I_Site has an optional pre-operational check function, so you can check if your trucks are shipshape even though you are not physically present. By performing a pre-op check, you ensure safety, not only for your fleet but also for your warehouse employees.
I_Site even has a feature that can randomise the pre-op questions based on the truck. You can randomise the order of the questions each time a driver logs in. This feature allows you to ask certain questions on a daily or weekly basis. A few examples:
Are the forks in good condition?

Are the wheels or tyres damaged?

Is the battery cable or plug damaged?

Are the breaks working correctly?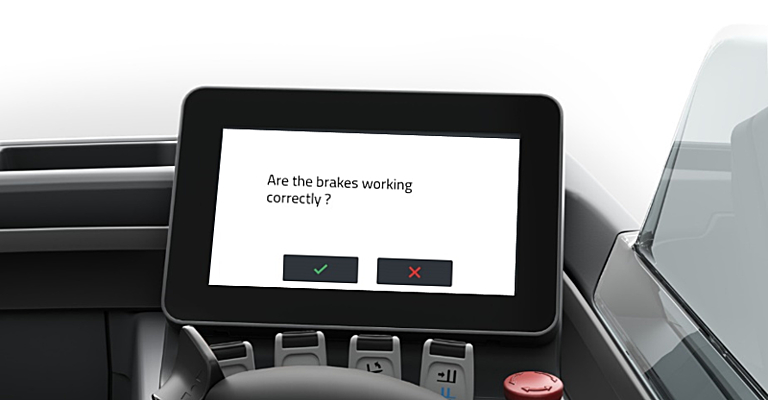 Brace for impact
Do you know that truck damage costs are on average 11% of the total cost of all Toyota Material Handling trucks in 2019? It's in your operation's best interest to enhance safety measures. And for every euro you'll spend on repairing your truck, you'll spend up to ten times as much on repairing what it has damaged! So, do you have a peak period for collisions or shocks? Then try to identify possible issues, patterns and returning key factors. You can stimulate safe driving behaviour by checking which drivers cause the most shocks. That way, you can support them by, for example, doing awareness sessions and organising additional driver training. Encourage cautious driving behaviour and make your operators realise the importance of safety, help them understand the consequences of damaging a truck in terms of possible risks and costs.
Plan for performance
With I_Site you can identify the routines of your drivers, you can find out when certain drivers are really busy and how to optimise productivity and performance for each of your truck operators. The app let's you plan the working day so your employees can get the most out of their time.
Data security note: all I_Site data is stored according to the latest security and legal (GDPR) compliance.