Great, you decided to go for an electric counterbalance forklift truck! The range of electric trucks is wide, so some guidance to find the right model for your operation may come in handy.
If you would like to start your buying process immediately, don't let us slow you down and go to our online store straightaway to find an array of electric forklift trucks that matches your requirements and business. But for those of you, who want to be sure they haven't missed anything crucial; these are some questions you should ask yourself before buying material handling equipment:
What do I need to lift and to which height?
The load capacity and the lift heights are key distinguishing features of forklifts.
The rated capacity of the forklift and its load centre decide which loads can be lifted and transported.
Comparing the different masts, mast heights and their residual capacities will help you understand the real capacity each truck can give you at a certain height.
The use of an attachment such as a sideshift can reduce the rated capacity. For electric forklifts, lift heights go to about seven metres and load capacity ranges from one to eight tonnes.
Also, pay attention to the lowest (door/gate) height the truck needs to be able to pass, the closed mast height and overhead guard height cannot be too high.
If you are not sure of your requirements, we offer free site surveys conducted by one of our experts.
What environment will my truck be working in?
Electric counterbalance forklifts operate indoor and outdoor work as well as being more environmentally friendly than IC trucks. A 4-wheel chassis offers more stability and driving comfort on uneven floors. When the work area is limited in terms of space, for example when operating in tight aisles, a 3-wheel model is advised as it is more manoeuvrable.
What is the intensity of my forklift usage?
In operations with a two or three-shift operation, the availability of the truck plays an important role. Electric forklifts have batteries that require time to charge, meaning at certain times they will be unavailable. Spare lead-acid batteries and battery exchanges can bridge that time, but a more efficient solution is lithium-ion batteries. This technology enables frequent short intermediate charges when the truck is not in use, for example during a break, and offers high performance for multi-shift use.
What about my forklift truck operators?
Electric trucks are silent and clean machines to operate. But other features of our electric forklifts can help your drivers to work more ergonomically and hence be more productive. The operator compartment can among others be equipped with a comfortable seat, several levers on the armrest and an informative and intuitive display. If the truck is operating outdoors, a closed and weatherproof cabin will greatly improve the driver's working environment.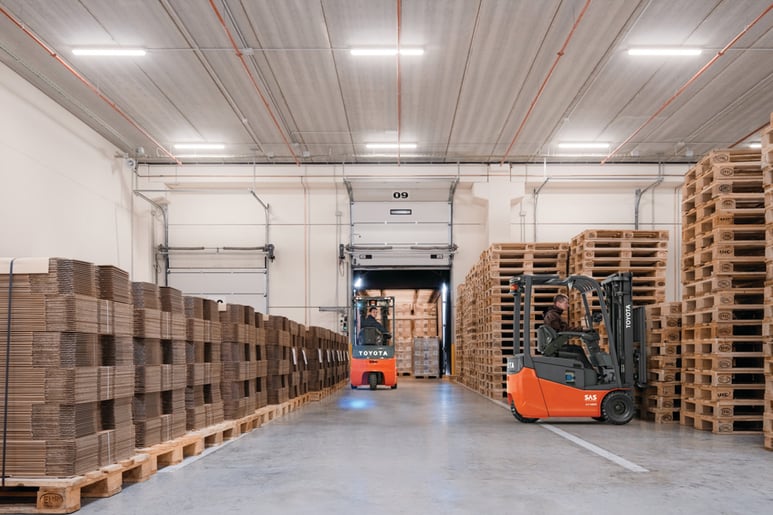 What will it cost me?
Next to the investment cost, which is quite significant for a new forklift truck, you should also consider the total cost of ownership including for example servicing and energy costs. Several factors like energy efficiency, type of battery technology, the service network, access to spare parts, the product quality and so on will have an impact of your total operational cost. If purchasing a new truck doesn't fit your business, renting a truck is a good alternative, or take a look at an approved used model.
How important is connectivity?
Real-time data of your fleet can help to turn information into insights. If your company focus is on costs, productivity, or safety, then a connected fleet that you can monitor through a fleet management system to take the right actions, is a useful option to have. At Toyota, nearly all trucks are connected smart trucks and are available with the I_Site fleet management system.
What about servicing and maintenance for my truck?
Here at Toyota, we can provide a range of service packages to keep your truck fully maintained and serviced, as well as ensuring it is safe and legal with a Thorough Examination. We also provide full support for your batteries with our Battery Care service, ensuring your forklift batteries are well looked after and maintained to enhance their life and reduce downtime.