Drivers spend long hours seated to do the heavy part of the job and it often includes stress, strain and fatigue. They are your most important asset in your operations, what would you do without them? So let's take a look at what we have been developing to make their daily tasks strain-free and a bit more enjoyable.
Kaizen, which means continuous improvement, sits in Toyota's DNA for a very long time. When designing the new range of Reflex reach trucks, the focus has been put on placing the operator at the centre, offering innovative features to boost your drivers' performance.
Taking ergonomics to the next level
Comfort comfort comfort, isn't that one of the most important aspects for drivers (without forgetting safety of course) when operating a truck, to be able to work efficiently?
We've always put a large focus on drivers' comfort since our first Reflex truck more than 25 years ago. But our new range offers even more ergonomics to your drivers.
While seated most of their shift, drivers will now be able to enjoy a new fully adjustable high-quality air suspension seat as well as the cabin floor height that can be easily adjusted at the touch of a button. It guarantees your operators maximum comfort for increased efficiency.
But comfort is not all about the seat, right? So we have enhanced driver's experience further with new controls: on the left hand side, the steering unit with palm support has been improved for better driving feeling and on the right-hand side, there is also a new main control console including a large arm rest.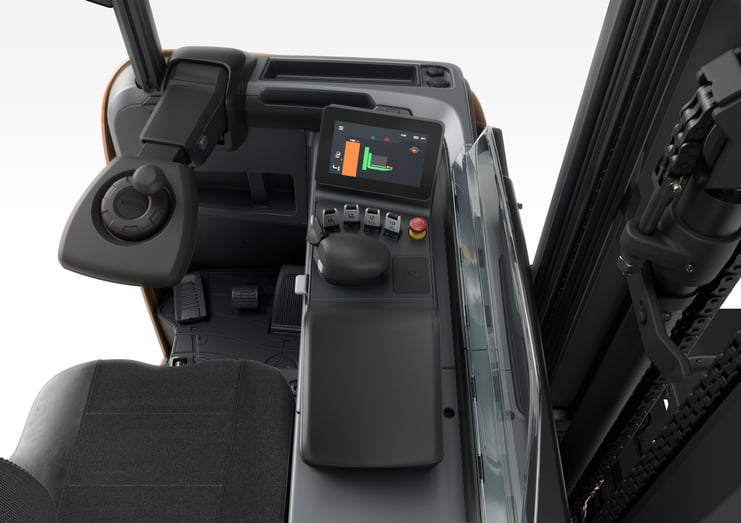 Other nice extras that can make drivers' life easier include additional storage compartments, a mobile phone charging point and even Bluetooth connectivity, so your drivers can listen to their favourite music during their operations.
Let's not forget the unique tilting cab on the Reflex E-series which also contributes to reduce drivers' strain and fatigue and allows maximum visibility at height. The optional transparent roof offers even better visibility and safety.
Intuitive and interactive driver experience
Drivers' experience goes a step further with the new Reflex, as it's equipped with a completely new colour touchscreen display integrated on the right-hand side unit.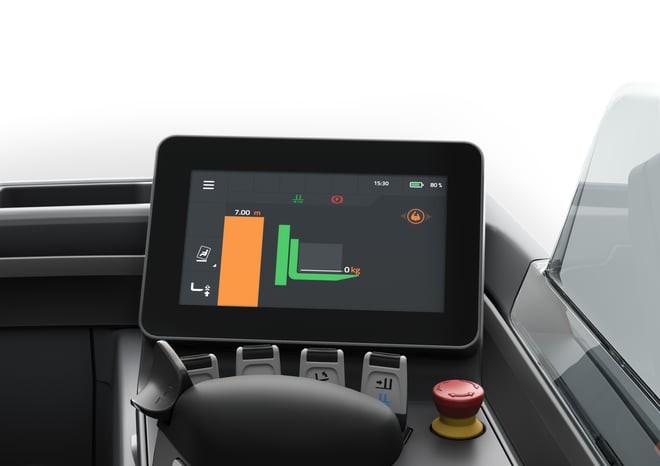 This intuitive and interactive display is easy to use and read, with crucial information at a fingertip. It allows nice and simple interactivity between the truck and your driver. And this means even higher levels of safety and productivity in your workplace.
Functions such as pre-op check, Pin code access are available directly from the touchscreen as well as another nice feature such as the 2-way messaging. For example your driver can send an alert in the event of a problem occurring during operation, and a service technician can send a message to your driver to request a return to base. All these features enhancing safety and efficient operations.
During operation, the screen continuously provides information using intuitive symbols and icons, as well as the use of green and orange colours to confirm safe operation. The driver can see information such as lift height, load weight and fork alignment, as well as more critical alerts like overload warnings.
The touchscreen display also provides your driver with easy access to programmable functions such as control of the tilting cab, setting lift height limits and height pre-selection, as well as performance parameters.
An optional high-level display shows the camera view for accuracy when working at height, and also integrates critical load information.
The new BT reflex range from Toyota offers your drivers the best driving experience in the industry with innovative features guaranteeing safe and comfortable operations all shift long while keeping overall performance high.