Manufacturing costs, labour costs, effects of downtime and inefficient material flow. Each of these can incur significant financial impacts on a business. With these costs only increasing over time, business owners are investing in improving efficiency to combat the rising price of production.
Today, increased efficiency comes from:
Waste reduction
Streamlined material flow
On-demand production
Reactive and flexible supply chain management
More effective on-site labour
While some try to source cheaper raw materials or create products that are cheaper to create, others are focusing on more infrastructural changes that build efficiency from the ground up. They're choosing to implement lean production.


What is lean production?
Lean production or Toyota lean manufacturing is where the manufacturing process is optimised to minimise wasted materials and instances of inefficient labour. Simultaneously, teams will work to either maintain or even improve on-site productivity. The key goal is net improvement over both productivity and costs.
The history of lean production begins with the Toyota Production System (TPS), with the principles of lean production derived from Japanese ideologies, such as 'zero muda' (waste). It's a process influenced by:
'Just-in-time' manufacturing, where material use and inventory is optimised, reduced to only that which is needed for production
Minimisation of transportation needs, through eliminating repetitive handling and

taking a modular thinking approach

when it comes to warehouse use
Production-wide automation, through the use of

specialised automated material handling vehicles

to maintain the flow of product and minimise human labour
Essentially, lean production practices and ideology works to trim what is unnecessary and improve what is, ensuring that better value is captured across the production process.
"Costs do not exist to be calculated. Costs exist to be reduced." - Taiichi Ohno, Founder of TPS


In this blog, we will be exploring the key advantages businesses experience when utilising lean production practices.
Lean thinking in the warehouse.
A great example of lean thinking in the warehouse is through the implementation of automatic material handling. Evidently, material handled by humans is more at risk of misplaced product, over-ordering and a lack of visibility over material flow — especially without a method of effectively tracking the material.
When a team considers the processes that exist in a warehouse, there's the potential to identify areas in which lean thinking would benefit. For example, take step-by-step warehouse automation, where automation can be applied to the following steps:
Put-away
Replenishment
Point-to-point transport
Empty pallet handling
Finished goods to outbound
In all these specific processes, applied lean thinking helps to eliminate waste, the kind of waste that may incur unwanted costs or risk accident. Lean thinking also helps to standardise processes so that they're far easier to track and analyse for further improvement.
When implemented, lean production can capture several distinct advantages for a business.
It is time to embrace the power of lean production.
The first step involves downloading the lean production whitepaper. Learn more about the concept and it can help your business improve efficiency and become more profitable.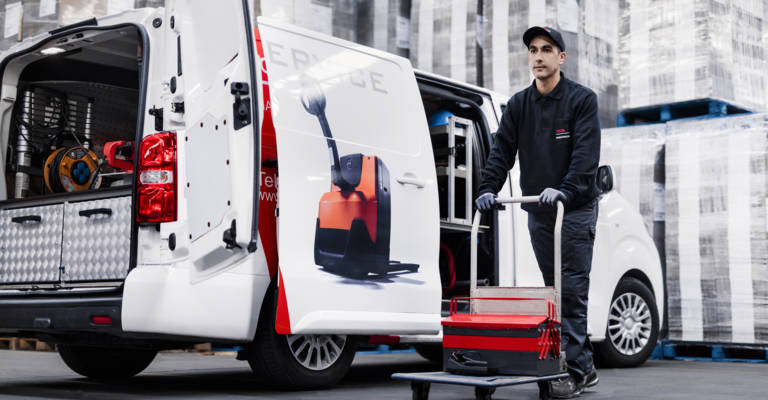 The advantages of lean production.
Lean production provides the following advantages:


Better quality.
Through processes such as automation, employee time can be freed up to focus on other crucial tasks, while similarly providing time to innovate and ensure the quality of products.


Sustainability.
Eliminating waste and the risk of over-ordering raw materials mean that a business can better control its impact. Reduced material use leads to a reduced environmental footprint, which is a key consumer motivator in today's markets.


Improved lead times.
Fluctuations in demand and the availability of raw materials change often. Through lean production, adaptability in these scenarios is more likely to be experienced. Lean practices streamline production, so businesses can better respond to those fluctuations and develop better lead times.


Decreased overheads and increased profit.
Eliminating waste, overproduction, the risk of accident — these are all cost reductions, meaning overheads will likely decrease over time. Simultaneously, with better quality internal processes and better quality products comes an increase in potential profit.
So what does lean production look like in real-life scenarios?


Lean production in practice.
The beginning of lean production sits with process mapping, where current warehouse processes are evaluated for their efficiency and to determine where extraneous waste or obstacles are produced. Once those causes of waste and obstacles are identified, solutions can be chosen to solve those problems.
Automation is a key solution for this. Technologies such as automated guided vehicles work to create well-designed and efficient lines of material flow, keeping up with demand and reducing the risk of human error.
At the same time, employees should be trained in lean principles and practices that will be applied to internal processes. Not only does this increase buy-in, but it also reduces the time it takes to transition from the older way of working to the optimised version.
In summation, lean production is a key strategic implementation for businesses looking to improve their internal working conditions, remain financially stable through volatile economic changes and stay ahead of their competitors. The practical side of this is automation.


The warehouse automation blueprint.
We realise that not everyone will have considered automation before, but could be suffering from a number of the issues that automation helps mitigate. These issues could present themselves in the form of surplus labour, human error, downtime or other negative situations.
Automation is a big implementation, so it requires time to consider. To help those weighing up automated solutions, we've developed a blueprint that will help determine whether automation is the right path to follow.
Download the blueprint by clicking the button below.