Toyota Material Handling UK has been supporting businesses making the transition to building a more sustainable supply chain for many years. Since 2010, we have engaged with customers, suppliers and civil society through the networks of EU OSHA and EcoVadis to help businesses worldwide contribute to building a more sustainable economy.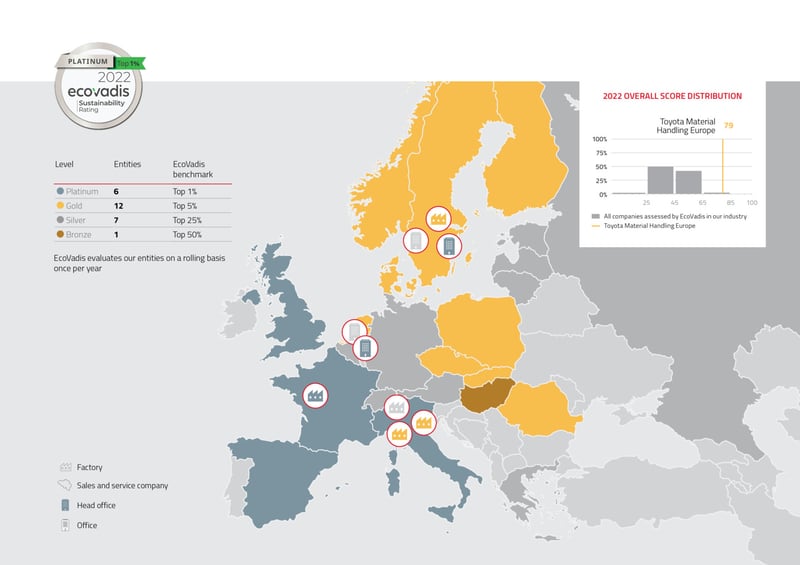 This article will highlight these credentials and provide examples of how we have supported businesses by embracing the Toyota Way.
Our sustainability credentials.
Our sustainable credentials speak for the work we have done and the different ways we have helped businesses become greener.
We have a number of key certifications that provide evidence of our commitment to sustainability. These include:
ISO 9001.
This sustainability certification provides the baseline requirement for Quality Management Systems. The fact that we are ISO 9001 certified highlights our commitment to having quality processes in place and are passionate about building a quality-oriented culture.
ISO 14001.
The ISO 14001 certification shows Toyota Material Handling UK has a proven track record in environmental compliance.
As well as doubling down our efforts to reuse and reduce water and waste consumption, we have also built an innovative culture focused on environmental reduction.
ISO 145001.
Companies that are ISO 45001 certified have a better track record in health and safety compliance, reducing injuries and sickness absence, and general prevention measures. Here at Toyota Material Handling, we have this certification too.
ISO 5001.
The ISO 5001 certification showcases our commitment to reducing energy usage and emissions. We have an advanced culture regarding energy efficiency and carbon emissions — something we take very seriously.


EcoVadis platinum.
We are also an EcoVadis partner and have a platinum rating. Furthermore, this highlights our commitment to the environment and going about our business in an ethical and sustainable way.
How are we helping our customers?
We aim to bring efficient, safe and sustainable material handling to our customers. We do this by offering a range of innovative services that can positively impact the entire supply chain. These include:
Low-carbon solutions.
We are constantly developing and promoting technology to minimise our impact on the planet. This can be seen in our range of electric forklifts.
Around 90% of our fleet is currently compatible with fuel cell technology. We are also working to grow our Toyota fuel cell truck range too. Not only are these solutions built to serve better to the environment, but they can also make a huge difference to a warehouse's performance. Find out how here.
Waste reduction.
We're committed to reducing waste in our operations and helping warehouses worldwide do the same.
Through our LSI service, our team of specialists can spend time auditing warehouses and analysing their performance. From there, we help our clients build the most suitable and efficient solution for different stages of their supply chain.
Once the solutions are integrated, warehouses can enjoy greater productivity and profitability while reducing waste to the greatest extent possible.
We were also the first company in the industry to integrate telematics technology on electric warehouse trucks back in 2018.
Through our I_Site fleet management system, businesses can enjoy benefits that include creating a safer workplace, improving productivity and contributing to an environmentally friendly operation.


Improving health and safety.
All our efforts in improving product and process quality have one main focus: providing maximum safety for our customers.
As well as providing some of the safest equipment in the industry, we can also support warehouses with their customer safety and operator training.
Our training approach is based on the 'Bradley Safety Model'. By incorporating this model into their operation, warehouses can work towards having zero accidents in the workplace.
Embracing lean thinking.
Lean thinking focuses on improving flow in the value stream, eliminating waste and building a more sustainable operation. The origins of lean thinking date back to the 1930s, when the founders of our company invented the Toyota Production System.
Since then, we have been supporting customers around the world on how to incorporate this innovative way of thinking into their operations. We do this by showing them a range of lean initiatives and strategies, including Just-in-Time, Value Stream Mapping and Kaizen.
By embracing such initiatives, warehouses can focus on constantly improving their processes, where sustainability is at the heart of every decision they make. Getting started on your sustainability journey can feel a little daunting. There is a lot to think about and you need to have a clear understanding of the sustainability strategies that can support you along the way.
That is where our green warehouse roadmap comes into the picture.
A resource designed to help you increase your supply chain sustainability.
We have created an educational guide to help you learn more about sustainability in warehousing, its benefits and some strategies you can implement as you move forward.
By keeping it close, your warehouse can start to achieve its sustainability goals and positively impact our environment.
Access your copy below.