Lean thinking is a business approach growing in popularity. The approach focuses on improving flow in the value stream, eliminating waste and building a more sustainable operation. For businesses looking to adopt a lean way of thinking, it is essential to know the five principles of lean and how to apply them in the workplace.

This article will cover the five principles of lean and how they contribute to a lean thinking mindset for business. Read on to find out what they involve.
The five principles of lean.
Is your business looking to become leaner in its approach? If so, we recommend taking some time to learn about the five principles of the lean model and putting each stage into practice. When appropriately implemented, lean principles can have a significant impact on improving productivity and quality, building a happier workforce and reducing waste. The steps are:
Defining value.

Mapping value streams.

Creating flow.

Establishing pull.

Seeking perfection.
Defining value.
Lean is all about adding value across the supply chain. For this to happen, you should spend time thinking about what value looks like for your business and customers.
For example, for a manufacturing company, you might have historically found it challenging to deal with fluctuating demand levels. This naturally affects your supply chain, meaning customers do not always receive their orders on time.
Moving forward, you might want to add value by changing processes and implementing lean techniques to ensure your warehouse is always prepared to keep up with these demand fluctuations. By doing so, you will avoid disruptions and customers are more likely to receive their orders on time.
Is your business ready to harness the power of lean production?
If so, download this guide. You will learn about the benefits of lean production and discover the most effective techniques to implement to achieve success.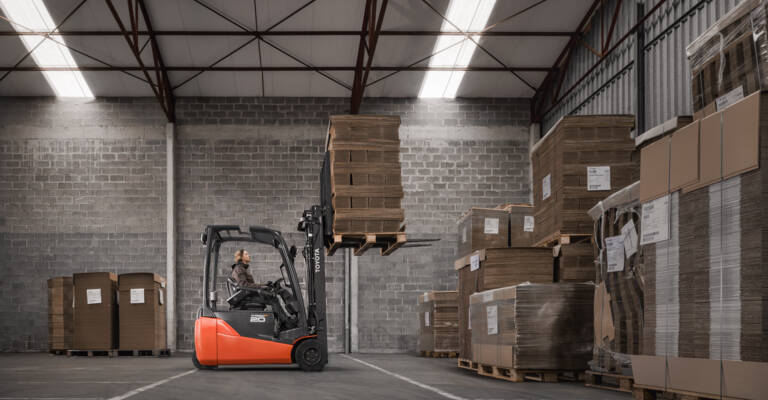 Mapping value streams.
Step two involves identifying and mapping different value streams. You should use the values you have decided on in step one and identify all the activities that contribute to these values at this stage. You can then start to decide which of these activities are adding any value to your business and customers. Any actions that are not adding value are considered waste. A plan should then be created to remove these activities.
For example, you might establish that bottlenecks are building up in loading and unloading areas in your warehouse. This ultimately impacts the speed of production, customer satisfaction and your employees' morale.
Therefore, you should optimise these spaces by removing any inefficient paths and unorganised storage areas.


Creating flow.
Once you have removed waste from value streams, you now need to make sure any changes made to your operation run smoothly without disruptions or delays.
Embracing change can be difficult for some people, so patience is key here. You should also have a plan in place to be best prepared should any challenges arise.
There is a range of strategies for ensuring any value-added activities flow smoothly and some of these include:
Reconfiguring production steps.
Levelling out workloads across different departments.
Creating cross-functional teams.
Training your staff to be multi-skilled and adaptive.
It is also worth implementing Kaizen at this point, which is one of the fundamental parts of the lean methodology. This strategy focuses on continuous improvement and aims to gain buy-in from everyone to work together and proactively achieve regular, incremental improvements to the manufacturing process.
Establishing pull.
Unnecessary inventory is considered one of the biggest wastes in any production system. By inheriting a pull-based approach, a business can achieve just-in-time delivery. This is where products are created when needed with the right quantity to meet demand. The primary objective of this approach is to save warehouse space and unnecessary cost-carrying, improve efficiency and ultimately reduce waste.
You can learn more about just-in-time production and how it works here.
Seeking perfection.
You have now made your way to the final step in the process — seeking perfection. This step is arguably the most important of them all.
This is where you make lean thinking and continuous improvement an everyday part of your business culture. Processes can continually be improved, delivery times can always speed up and innovation should always be at the heart of every decision.
Several strategies and solutions can support your business at this stage in the process. One of the most effective is lean automation. Here, your business should implement a range of automated solutions across the supply chain. These solutions include Automated Guided Vehicles (AGVs) and warehouse robotics. These solutions not only enhance productivity but also help you to reach your sustainability goals. By opting for a battery-powered fleet over combustion-powered engines you'll cut out carbon emissions from your operations and become more sustainable as a business.
By following the steps mentioned above, your business can develop a lean way of thinking and quickly make some positive changes to your operation.
However, for your business to truly embrace lean, you will need to be clued up on the different lean techniques available and understand the role technology plays in the process.
That is where our whitepaper comes into the equation.


Take the first steps towards harnessing the power of lean production.
To help you get started on your lean journey, we have created a whitepaper that covers everything you need to know about the methodology. This whitepaper will offer all the guidance you need, from the most important benefits to tips on implementing lean technology.
Get started by accessing your copy below.