To meet consumer demands, increase efficiency and lead the way in the market, businesses operating in the warehouse sector must build a corporate strategy focused on sustainability. This strategy is made up of many moving parts. Initiatives such as using eco-friendly materials and upping your recycling game can have a big impact.


However, there is something else that can not be ignored — warehouse automation. This article will explain the role automation plays in supporting warehouses on their sustainability journey. Here is what we will cover:


1. The reduction of energy consumption.
Reducing energy use is one of the most effective ways to build a sustainable warehouse design. This can be done by fitting LEDs and using renewable energy for heating. Automation has a key role to play as well.
Many Automated Guided Vehicles (AGVs) are powered using electricity as opposed to traditional solutions that run using diesel or petrol.
As well as this, some AGVs can operate in the dark, meaning there is no need to use excessive lighting in your warehouse.
2. The removal of inefficient processes.
Inefficient processes do not add any value to an operation. In the lean methodology, if something does not add value, it is classed as waste. Of course, waste is bad for the environment. There are seven types of waste in lean manufacturing. We have discussed these in more detail here.
Different automated forklift solutions are aimed to tackle these seven wastes. One of these is a Warehouse Management System (WMS).
A WMS will give you a much clearer oversight of your operation. It allows you to harness the power of data to understand which processes are working and which are not.
From here, you can quickly remove these processes to enjoy benefits such as improved efficiency and employee morale.
Start improving your supply chain and generating more revenue.
Our playbook outlines the most impactful strategies your business can implement to make effective changes to your supply chain and achieve your goals.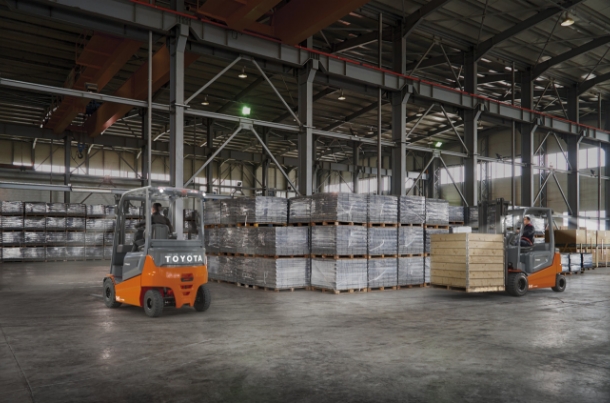 3. Create more space in your warehouse.
Automation will also help you achieve a smaller physical footprint than a traditional warehouse. A high-bay warehouse can have the same storage capacity as a conventional warehouse twice its size by taking storage upwards.
Once you have taken your storage upwards, automated solutions such as tow trains, automated forklifts and robots can make for much easier access. Reducing the size of your warehouse also means you have to use less energy on lighting and heating, which will reduce your operational costs.
Before you optimise your warehouse design to improve storage, be sure to follow these seven best practices.
4. Reduce wasted materials and supplies.
Having more inventory than necessary can lead to a combination of waste building up. In many cases, waste in the supply chain usually occurs due to human error or inaccurate forecasting.
Inventory waste is one of the biggest contributors to waste in warehousing. Overproduction is one of the biggest contributors to wastage in warehousing. This is where a warehouse overproduces the level of inventory needed to meet demand. Unfortunately, much of this waste is never reused and ends up being sent to landfill.
There are different types of automation to help warehouses solve these issues. AGVs are designed to automate many of the repetitive tasks that staff would usually take on. By doing so, inventory accuracy is improved and human errors are reduced.
These are just a few examples of how your warehouse can become more sustainable. We have created an insightful resource covering sustainable warehousing in more detail.
Start your mission to become greener here.
Our green warehouse roadmap is packed with information on how and why warehouses should become more sustainable. We have covered everything you need to know, from effective sustainable strategies to a breakdown of the benefits of going green.
Access your copy of the roadmap below.